Sherwin K. Bryant
Associate Professor of African American Studies and History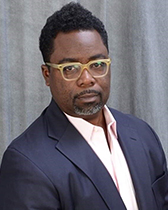 1860 Campus Drive, Crowe Hall, Room 5-125
Research Interests:
Colonial Latin America
Early modern African Diaspora
Atlantic and Pacific Worlds
Comparative Slavery
Law and Society
Political Economy
Courses
:
AFAM 213: History of the Black World
AFAM 345: Afro-Latin America
AFAM 400: Historiography of Afro-Latin America
Current Research:
Sherwin K. Bryant is a scholar of slavery and race in the early modern African Diaspora.  His work explores the lives of people of African descent in Latin America, especially in the north Andean regions of what are now Ecuador and Colombia. He is the former director of the Center for African American History at Northwestern, and a co-director of the Andean Cultures and Histories Working Group in the Weinberg Center for Area and International Studies.  Bryant's work has appeared in journals such as The Americas and Colonial Latin American Review. His first monograph, Rivers of Gold, Lives of Bondage: Governing through Slavery in Colonial Quito, (University of North Carolina Press, 2014) offered the first English-language examination of slavery in Ecuador and southern Colombia.  The work advances an understanding of the early modern history of race as a way of showcasing the political importance of slavery in the Americas.  Bryant is the 2021 ACLS-Mellon Scholar and Society Fellow with the African American Heritage Foundation of Southeastern North Carolina (AAHFSNC), where he the PI for "Just Across the River: Black Histories of Brunswick County," a place-based, community-engaged research project that explores the history of slavery and the Black communal formation in Brunswick County just across the river from Wilmington, NC.  The work includes a series of oral histories that concerns the history of Black sacred and social spaces such as churches, cemeteries, schools, and juke joints to make visible regional Black geographies in the face of regional development and displacement.
Recent Publications:
Rivers of Gold, Lives of Bondage: Governing through Slavery in Colonial Quito (UNC Press, 2014).
Expanding the Diaspora: Africans to Spanish America, co-edited with Rachel O'Toole and Ben Vinson, (Urbana: University of Illinois Press, 2012).
"Finding Freedom in Colonial Quito," in The Ecuador Reader, (Duke University Press, 2008).
"Finding Gold, Forming Slavery: The Creation of a Classic Slave Society," The Americas (2006).
"Enslaved Rebels, Fugitives, and Litigants: The Resistance Continuum in Colonial Quito," Colonial Latin American Review (2004).