Claudia Garcia-Rojas
Exchange Fellow, Philosophy, École Normale Supérieure, 2017-18
Master of Arts, African American Studies, Northwestern University, 2015
Master of Arts, Philosophy, DePaul University, 2013
Dual Bachelor of Arts in Philosophy and Women and Gender Studies, Minor in French, DePaul University, 2006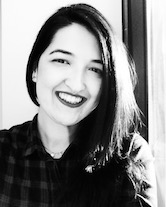 Claudia is a political theorist with strong interdisciplinary orientations. She works and teaches at the intersections of Black studies, continental philosophy, security and surveillance studies, French and Francophone studies, gender and sexuality studies, and political theory.
Claudia's research offers a comprehensive analysis of how the policing of blackness helps us reframe the national security paradigm.
Claudia's research has earned external support from École Normale Supérieure, one of the most selective and prestigious university's in France, in addition to the Center for Legal Studies, the French Interdisciplinary Group, the Science in Human Culture Program, the Sexualities Project at Northwestern (SPAN), and The Graduate School at Northwestern University.
Research Interests
Black Social and Political Thought; Security and Surveillance Studies; Continental Philosophy; Critical Race Theories and Critical Philosophies of Race;  Legal Theory; Social & Political Theory; Black Feminist Theories; Theories of Blackness; Intellectual Histories; Caribbean Area Studies; Affect; Psychoanalysis; Gender and Sexuality Studies.
Peer-Reviewed Publications
Garcia-Rojas, Claudia. "(Un)Disciplined Destinies: Women of Color Feminism as a Disruptive to White Affect Studies," in Journal of Lesbian Studies, Aimee Carillo Rowe and Francesca Royster, eds. Taylor & Francis Group, 2016, Pages 254-271
Garcia-Rojas, Claudia. "From Homan Square to Freedom Square: Legacies of Racist Policing and Black Power in Chicago" in Journal of Radical History Review. Duke University Press, (forthcoming).
Garcia, Rojas, Claudia., Hereth, Jane., Morris, Carrie., and Rumpf, Cesraéa. "#FreeThemAll: A Feminist-Abolitionist Praxis for Ending Gender-Based Violence," Affilia: Journal of Women and Social Work. Sage Journals, (forthcoming).
Awards, Fellowships & Grants (Select)
2018: University Fellowship, The Graduate School, Northwestern University
2018: Diversity Initiative Grant, American Philosophical Association
2015-pres: Legal Studies Fellow, Center for Legal Studies, Northwestern University
2017: École Normale Supérieure, Doctoral Exchange Fellowship, Northwestern University
2017: Paris Program in Critical Theory Fellow, Northwestern University
2017: Research Grant, Center for Legal Studies, Northwestern University
2017: Digital Humanities Dissertation Research Grant, The Graduate School, Northwestern University
2016: Progressive Women's Voices Fellow, Women's Media Center
2016: Diversity Initiative Grant, American Philosophical Association
2015: Dissertation Research Grant, Buffet Institute for Global Studies, Northwestern University 
2015: Graduate Certificate in Critical Theory, Northwestern University
2015: Research Grant, Sexualities Project at Northwestern, Northwestern University
2015, 2014: Morris Goodman Grant, Department of African Studies, Northwestern University
2014: Summer Language Grant, The Graduate School, Northwestern University
2013: University Fellowship, The Graduate School, Northwestern University
2013: Fulbright Fellowship (alternate), Fulbright U.S. Student Program, Institute of International Education
2013: Fellow, The OpEd Project