Dotun Ayobade
Assistant Professor of Performance Studies and African American Studies (Beginning July 1, 2021)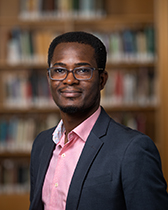 70 Arts Circle Drive, Room TBA
About:
Dotun Ayobade (he, his, him) holds a joint appointment as an Assistant Professor in Performance Studies and African American Studies. He studies how embodied forms of popular culture shape the meaning of community, justice and activism in postcolonial West Africa. Ayobade attends to how West Africans activate aesthetic and everyday social performance to shape their lived realities, forge belonging, and declare being within the political economy of postcolonial Africa. His work considers the function of embodiment in and across a range of cultural forms—i.e., dance, theatre, sound, material culture, performance art and photography—alongside the multiple significations of the aestheticized body in contemporary Nigeria: as an archive of collective desires and underexplored histories, as a fodder for subversive worldmaking, and as a space for rearticulating meaning and possibility between Africa and the African diaspora. His work sits at the intersections of Dance and Performance Studies, African and African Diaspora Studies, Gender Studies, and Popular Cultural and Postcolonial Studies.
Ayobade is currently working on the first book-length study of the storied lives of Nigeria's Afrobeat Queens, an iconic collective of women that gave potency to the activism of famed Nigerian musician, Fela Kuti. Provisionally entitled The Afrobeat Queens: Gender, Play, and the Making of Fela Kuti's Music Subculture, this work examines how the women of Afrobeat fashioned performance strategies to negotiate agency and visibility when confronted with authoritarianism and social rebuke. The Queens have been viewed in rather polarized fashion: as figures of Pan-African beauty and strength, or as victims/cyphers of Fela's eccentric mode of activism. Ayobade argues that these constructions stifle a nuanced and well-contextualized exploration of the joys, motivations, suffering, and perennial struggles, alongside, because of and beyond Fela Kuti. The Afrobeat Queens weaves together narratives of the women's emergence as figures of cultural, ideological and moral interest, beginning in the early 1970s, with the gendered pathologies of postcolonial life in Nigeria. Now under contract with Indiana University Press, this research earned Ayobade the University of Texas at Austin's Graduate School Named/Endowed Continuing Fellowship (2014-2015) and, more recently, Brown University's Salomon Faculty Research Award. He taught at both institutions prior to joining Northwestern.
Ayobade's most recent writing "Invented Dances, Or, How Nigerian Musicians Sculpt the Body Politic" is published in the Dance Research Journal. This essay explores sonic embodiment in the musical, scriptive and affective transaction between Nigerian musicians and their listening publics. Ayobade's writing has appeared in Journal of African Cultural Studies, Art Africa, Africa Today, in edited book volumes and in other public fora, including Africa is a Country.
Research Interests
African/Black Performance Theory
African Popular Culture
Performance Ethnography/Historiography
Petrocultures and Extractive Economies
Dance in Contemporary Africa
Fela Kuti/Afrobeat Music
Books
Queens of Afrobeat: Women, Play and the Unmaking of Fela Kuti's Music Subculture (Under Contract with Indiana University Press [African Expressive Cultures Series])
Peer-Reviewed Articles
Ayobade, Dotun. "Invented Dances, Or, How Nigerian Musicians Sculpt the Body Politic," Dance Research Journal. Vol 53, Issue 1 (April 2021): 5-22.
Ayobade, Dotun. "'We Were on Top of the World': Fela Kuti's Queens and the Poetics of Space," Journal of African Cultural Studies (JACS). Vol 31, No 1 (March 2019): 24-39.
Ayobade, Dotun. "Fela Kuti: Kalakuta Was the Spirit" Art Africa, guest-edited by Kendell Geer (March 2017).
Ayobade, Dotun. "Re/Reading Spectacles: Historicizing the Occupy Nigeria Movement." Research on Humanities and Social Sciences. Vol 5, No 24 (2015): 61-65.
 Book Chapters
Ayobade, Dotun. "La Question du Genre: Trouble Dans L'héritage," Fela Anikulapo-Kuti: Rébellion Afrobeat (Paris, France: Textuel/Cité de la Musique – Philharmonie de Paris, 2022): 126-128.
Ayobade, Dotun. "Queens in Flight: Fela Kuti's Afrobeat Queens and the Performance of 'Black' Feminist Diasporas," Gendering Knowledge in Africa and the African Diaspora: Contesting History and Power. Edited by Toyin Falola and Olajumoke Yacob-Haliso (Abingdon, Oxon: Routledge, 2018): 143-163
Ayobade, Dotun. "Fela's Clenched Fists: The Double 'Black Power' Salute and Political Ideology." Body Talk and Cultural Identity in the African World. Ed. Augustine Agwuele (Sheffield, UK: Equinox Publishing, 2015): 37-57.
Book Reviews
Review of James Yeku, Cultural Netizenship: Social Media, Popular Culture, and Performance in Nigeria. Journal of African Literature Association (JALA).
Review of Msia Kibona Clark, Hip-Hop in Africa: Prophets of the City and Dustyfoot Philosophers. Africa Today 67.2-3 (Spring 2021): 191-194.
Works in Progress
"Jelili Atiku: An Aesthetic of Repair," a chapter to be submitted to an edited volume, A Companion to the Body in Performance (Routledge). Edited by Hershini Bhana- Young, Roberta Mock and Victor Ladron de Guevara.
Public Writing