Nicole A. Spigner
Assistant Professor of African American Studies (On Leave 2023-24 Academic Year)
Ph.D. in English, Vanderbilt University, 2014
M.A. in English, University of Pennsylvania, 2009
B.A. in English, University of Pennsylvania, 2007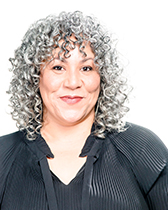 1860 Campus Drive, Crowe Hall, Room 5-117
Research Interests:
19th & 20th Century African American and Diaspora literature with a focus on Black Classicism, Black Feminism, speculative fiction, syncretic religion
About:
Nicole A. Spigner focuses broadly upon African American literature, Gender and Women's Studies, and American Studies. Her primary area is nineteenth-century African-American literature with a concentration in Black Classicism. The area of Black Classicism, first named Classica Africana by V. Michele Ronnick in 1996, includes the study of ancient cultures and art, as well as neoclassical writings and imaginings by persons of African descent. Spigner investigates, through a black feminist lens, the neoclassical literature and art in the African American context and the theories arising from these works.
Spigner's book project, entitled Niobe Repeating: Black New Women's Literature and Ovidian Transformation, examines works by black women authors who rewrote Ovidian forms and plot lines and redefined black feminine identity as a dynamic process of transformation. The project examines the neoclassical poetry and fiction of:  H. Cordelia Ray, Pauline E. Hopkins, and Alice Dunbar-Nelson. Although I begin with Phillis Wheatley, I concentrate on these later writers to examine the figure of the "precarious mother" as a metonym for the black woman author and intellectual at the turn of the twentieth century.
2019-20 Courses:
AFAM 211 – Literatures of the Black World: Black Classicism
AFAM 101 – First Year Seminar: Feminist Afrofuturisms
ENGL 366 – Studies in African American Literature
Publications:
"Phillis Wheatley's Niobean Poetics" in Brill's Companion on Classics in the Early Americas (2020)
"Frances Ellen Watkins Harper" and "Harriet A. Jacobs," Oxford Bibliographies (2020)